MAY 2022
NATIONAL CLUB ASSOCIATION/CTP WEBINAR:

POINT-COUNTERPOINT: HEAR THE TWO SIDES ON COMMITTEES, WORK-LIFE BALANCE AND DISCIPLINE AT CLUBS
CTP's Dan Denehy and Bob James come together for a point-counterpoint webcast on topics affecting the private club industry.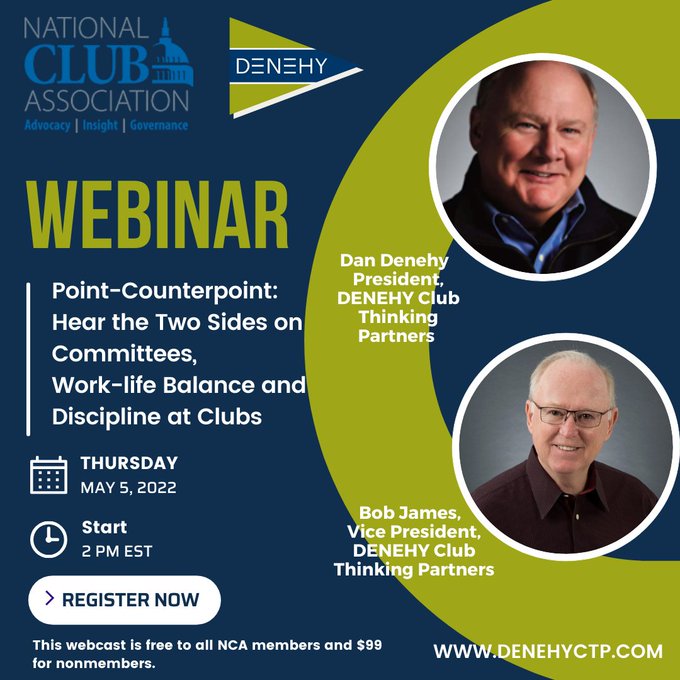 MARCH 2022
Metropolitan Club Managers Association 2022 Vendor Show
March 22, 2022, Glen Island Harbour Club, New Rochelle, New York 
FEBRUARY 2022
CMAA'S WORLD CONFERENCE AND CLUB BUSINESS EXPO
February 19-23, 2022, San Diego Convention Center 
The industry's largest gathering of club management professionals immerses attendees in five days of educational programming specifically engineered for their challenges. Register here.
Visit us at booth #1106. 
JULY 2021
Business Management Institute (BMI) Strategic Leadership
July 12-16, 2021
Boston, MA
On July 14 20201, Kirk O. Reese, CCM, Executive Vice President, DENEHY Club Thinking Partners will present at a BMI course that focuses on strategic management for club managers. Learn more here: https://www.cm
MAY 2021
CMAA Golden State Reinvention Spring Conference
May 25, 2021
Kirk O. Reese, CCM, Executive Vaa.org/BMIV/ice President, DENEHY Club Thinking Partners presented a 90 minute session on Governance.  Learn more here. 
APRIL 2021
April 8, 2021
Kirk O. Reese, CCM, Executive Vice President, DENEHY Club Thinking Partners presented a webinar entitled Career Transitions: How to Survive, Adapt and Thrive.
Check out the presentation here.
MARCH 2021
CTP's Dan Denehy was a guest lecturer last week at NYU's Management of Private Clubs & Resorts course.
The CTP Team loves meeting the next generation of Club leaders—our industry's future is certainly bright! Being a part of their education is a privilege and we are thrilled to be involved. Thank you to John Moser for the invitation!
JANUARY 2021
CMAA 2021 VIRTUAL WORLD CONFERENCE
March 8-21, 2021
Expand your skills and knowledge, collaborate with fellow professionals, and explore the latest innovations at the once-in-a-lifetime virtual 2021 World Conference & Club Business Expo. Learn more and register here.
CTP is thrilled to be participating in the following presentations at the CMAA 2021 World Conference:
Title: Budgeting Fundamentals for Club Management
Presenter: Robert C. James, CCM, CCE, CHE – Vice President
Description: It is not your strengths that make you, but your weaknesses that break you. Club boards expect strong financial managerial skills from in their management team and that all starts with the budget. In this session you'll be introduced to the three main club budgets: Operating, Capital, and Cash Flow and key metrics that substantiate success.
Title: Mind the Gap
Presenters:  Dan Denehy, CCM, CHA – President and Kirk O. Reese, CCM – Executive Vice President
Description: This session is for Club Professionals who want to become General Managers. We will share insight and strategic career moves to help fill common gaps in skills and experience on the path to a general manager role.
Title: Three Amigos – A mentoring saga
Presenters: Kirk O. Reese, CCM – Executive Vice President, David Chag CCM, Luke O' Boyle CCM,
Description: Follow three industry professionals who have mentored each other through their advancement to the top of their professions.  With age differences of a generation, these three have served each other as mentors and mentees benefitting greatly from sharing their experiences and knowledge.